5 Best Go Karts Las Vegas
While Las Vegas is most commonly associated with its casinos, there are actually plenty of other things to do in the city.
Las Vegas is home to many different types of entertainment, including live music, stage shows, and more.
If you're looking for things to do in Las Vegas that don't involve gambling, here are some ideas.
See a Show
Visit the Hoover Dam
Take a Helicopter Tour
Go Shopping
Go Karts Las Vegas is a popular activity among both locals and tourists. There are several tracks around town, each offering a unique experience. In addition to go karts, there are also plenty of other adrenaline-pumping activities to take part in, such as zip lining and Bungee jumping. So, next time you're planning a trip to Vegas, don't forget that there's more to the city than just gambling!
In this Article we will list the 5 best go carts in Las Vegas, addresses, prices, how fast are go-karts at Vegas, and what is the age limit for go-karting.
1- Las Vegas Mini Grand Prix Family Fun Center
The Las Vegas Mini Grand Prix is the amusement theme park that have it all, featuring picnic-style tables, a sizable arcade, cheap cuisine, a 90-foot slide, and one of Las Vegas' most well-known go-kart tracks. It is the perfect place to host parties and business functions because it is only 20 minutes from the Las Vegas Strip.
All racers can appreciate the four varied tracks there
Euro High-Speed Karts
Euro High-Speed Karts are the newest, baddest, and fastest ones ever, and they are racing on Las Vegas' largest track. up to a speed of 47 miles per hour. Don't fall for others' tricks. This is the race to enter if you want to compete head-to-head with your buddies to see who clocks the fastest time.  Must be at least 14 or older with a waiver signed by a parent or guardian, or have a valid driver's license.  Closed toed shoes with no heels required. Bring your own helmet or use one of theirs. 
Go Kart Track
Do you wish the excitement of racing? You can test your driving skill on the Go-Kart Track while competing against your family and friends. The action on the Longest Go Kart Track in Las Vegas will keep you entertained nonstop. The layout of the circuit makes it count as you compete for the victory with plenty of curves and just the proper amount of straightaway. Minimum Height, 54″. Kids under this height can ride with someone who is at least 14 years old in a two seater Go Kart for no extra charge – 5 minute ride.
Sprint Kart Speedway
The racing action at the Sprint Kart Speedway is literally wheel-to-wheel, so talk about getting up close and personal! The thrill of drivers competing side-by-side in our precise karts is replicated on this unique circuit. Minimum Height, 54″– 5 minute ride.
Kiddie Go Karts
Kiddie Go Karts was made specifically for younger children because they also want to race! they have ideal size for little ones. It is the perfect place for birthday parties. Minimum Height, 38″ to Maximum height 54″– 3 minute ride
The most thrilling spot to race go-karts on an outdoor racetrack in Las Vegas is at Vegas Superkarts where guests can go fast up to 50 MPH, which is situated at Speedvegas, the biggest motorsports park in the world! This type of driving experience is only available here in Las Vegas, and you must experience it to believe it. Expect some real fun and adventure by gathering your friends.
The 1,600-foot-long racetrack, which has 10 curves and a quick acceleration straightaway, was especially created by professional racecar drivers. That race track features double apex bends, hairpins, rapid sweepers, and 90-degree corners, all of which are protected by the most modern high-tech safety barriers. Vegas Superkarts will immediately blow your mind, even if you've never driven a go-kart before!
Vegas Superkarts provides helmets and balaclavas as part of the rental experience to ensure you are fully immersed with a high level of safety.
Every go-kart is linked to our timing software that provides precise lap-times and live-timing on TV screens. You can also follow the all the lap-times in the Vegas Superkarts App.
How much does Superkarts cost?
Check out our uniquely designed merchandise
3- Gene Woods Racing Experience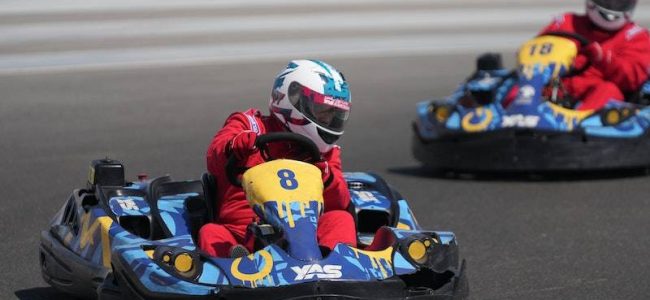 In the heart of Las Vegas, The Gene Woods Racing Experience provides two distinctive go-kart courses. Either site offers a welcoming environment for families.
Gene Woods Racing "DRIFT" Experience at Fremont Street – Indoors electric karts
Your abilities will be put to the test on the only purpose-built DRIFT TRACK in the world! utilizing cutting-edge electronic timing and check-in to give all racers quick feedback and scoring.
Gene Woods Racing Experience at The Las Vegas Sports Center – Outdoors gas powered karts
Extremely rapid, high-performance kart racing action. Inches off the ground, race participants compete side by side. You'll race around the half-mile track in the high-performance karts at top speeds that exceed those of other types of racing karts.
K1 Speed Las Vegas in the middle of the Strip is without a doubt one of the must-visit Go Karts tracks in Las Vegas.
The indoor track is air conditioned and provides a spectacular racing experience and for the convenience of visitors they offer arrive and drive packages.
The high-performance go karts at this facility are sure to provide you with an amazing experience, whether you are a beginner in motorsport or an experienced racer. Children must be at least 48 inches tall to race go-karts here, whilst adults must be 58 inches tall.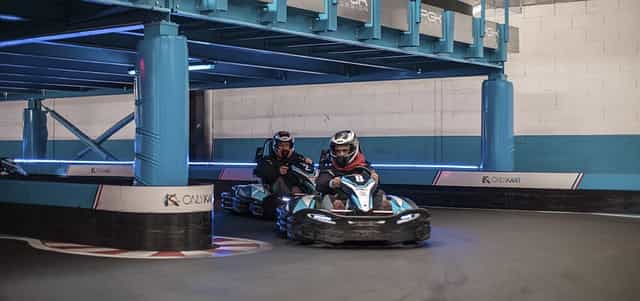 In their Laser Tag arena, demonstrate your aim! Drive around the Go-Kart course while keeping up with the opposition! On the mini golf course, put your way to success! Take the top spot on their climbing walls' leaderboards! While axe throwing, let your inner Viking loose!
Any of the above attractions are available for unlimited rides with the Half and Full Day pass. The Half Day pass includes four hours of unlimited.
Located close to the Las Vegas Strip inside the Boulevard Mall, Rex Center Vegas is one of the best go karting in Las Vegas has something for everyone, and on top of that, they offer a wonderful food selection with lots of classics like pizza! Now is the time to purchase your single attraction, half-day, or full-day passes.
Compete against rivals on a thrilling five-turn, multi-elevation course at up to 15 mph. The Go Karts have bumper guards, an electric motor, and a turbo option for when you need a little additional power.
To operate a single seat kart, the driver must be 9 years old and at least 54″ tall. For riders who are at least 39″ tall and under 54″ in height, two seat karts are available.
These kart races go on for about five minutes.