7 Best Go Karting Philadelphia
Philadelphia, Pennsylvania is the fifth most populous city in the United States and the largest city in the state of Pennsylvania. The city is located in the southeastern Pennsylvania region, along the Delaware and Schuylkill rivers. Well known for its historical landmarks such as Independence Hall, where the Declaration of Independence and Constitution were signed, as well as being the birthplace of the United States Marine Corps.
It is also home to a number of cultural institutions including the Philadelphia Museum of Art, Reading Terminal Market, and the Eastern State Penitentiary. Philly is also home to many professional sports teams, including the Philadelphia Eagles (NFL), Philadelphia Flyers (NHL), and Philadelphia Phillies (MLB).
One of the most popular attractions in Philadelphia is go karting. There are a number of indoor and outdoor go kart tracks in the city, as well as several businesses that specialize in go kart rentals, Let's know what some highly rated go-karts are and what people are saying about go-karts in Philadelphia. PA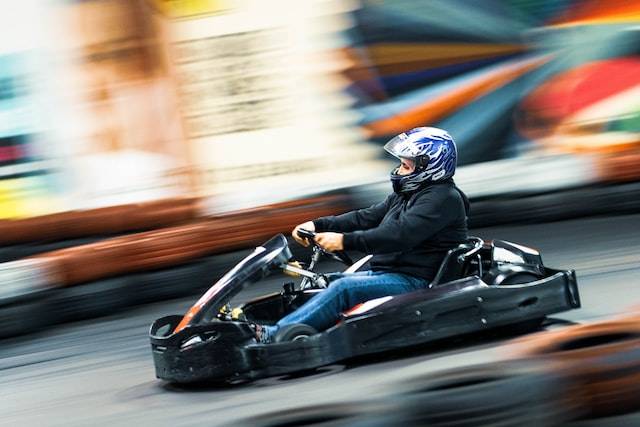 Xtreme Zone has a cutting-edge gas go-karts capable of reaching speeds of up to 40 mph. The quarter-mile track with 9 turns will allow you to pass your opponents and put the pedal to the metal.
What is nice about that place is that they do not allow Junior and Adult karts on the track at the same time for safety.
It is considered Delaware's premier indoor kart racing facility, offering a thrilling adrenaline rush that is both fun and safe for drivers of all skill levels. A variety of packages available, ranging from the Arrive & Drive for non-members to the VIP membership, which includes up to 25 races per month. Throughout the week, you can find specials such as unlimited racing, buy two races and get one free, and endurance races. if Karting is your thing you can join their adult or junior racing leagues and compete in an eight-week series to win a trophy.
They also offer VR with any sports car of your choice on hundreds of different tracks. And don't miss out on tossing an axe at a variety of digitally-projected targets ranging from zombies to tic-tac-toe on their new range.
Don't forget to check their Facebook page for updated hours and offers XtremeZone
Are you looking for an exciting, adrenaline-pumping adventure? Speed Raceway is the answer! 
You will appreciate the clean and modern facilities, regularly maintained, cutting-edge electric go-karts, variety of pulse-pounding activities, and friendly, accommodating staff, which make it one of the best Go Karting in Philly.
Residents of Bucks County and Montgomery County, PA, Burlington County and Camden County, NJ, and the entire Philadelphia area can easily access the indoor tracks in Cinnaminson, NJ, and Horsham, PA.
Their Italian made 48V electric STORM model Karts are distinguished by their revolutionary design and performance superior acceleration in and out of turns, making them ideal for the two F1-inspired, road-style tracks.
Speed Raceway is truly enjoyable for people of all ages, thanks to three different kart sizes. Each kart has only one seat and is intended for one person. To ensure everyone's safety, adult, junior, and mini karts race separately.
ADULT KART requires drivers to be 12 years old and, 56 inches, and must be able to reach the pedals safely.
JUNIOR KART requires 6 years old, 48 inches, and must be able to reach the pedals safely. maximum age of 17 years old.
MINI KART: Hand controls must be accessible.
Check out our uniquely designed merchandise
The Go Karts at Funzilla are double seaters all electric and can go up to 20 MPH. Three different race speeds are offered so that all racers of all ages can have fun. To drive, you must be 54 inches tall. for duo ride, you must be between 36 and 53 inches tall.
Besides Go-karting, they offer other attractions like Omni VR, Dunk Lanes, Trampoline dodgeball, foam pit, and much more. check their website to know about all the attractions Funzilla
4- Arnolds Family Fun Center
Arnold's is best known for its quarter-mile Go-Kart track and fleet of all-electric Karts. Their Junior Track provides rides on Falcon Karts for children aged 3-6 and Junior Karts for children 56″ and under (Ages 6-10). On the Main Track, both kids and adults enjoy our brightly colored Arnold's Classic Karts. They also have Double-Seater Classic Karts, so you can take your child out for a spin on the big track. The most notable attraction is the Sodi-Pro Racing Karts. When you get behind the wheel of one of these super fast racing Karts, brace yourself for a thrilling ride.
5- Lehigh Valley Grand Prix
The 48,000 square foot Lehigh Valley Grand Prix facility has grown to become one of the largest and most popular indoor racing tracks in the northeastern United States. The LVGP has a large fan base and several drivers who compete in the World Karting Association Championships on a regular basis.
Each race on the 1/4-mile indoor go kart track with a total of 11 turns lasts 8 minutes during the week and 7 minutes on weekends. During the allotted time, the average customer races 10-15 laps. Each lap is timed to the thousandth of a second, and after the race, all racers receive a detailed time sheet. The race is won by the racer who has the fastest single lap time. A maximum of ten racers can be on the track at the same time.
Check out our uniquely designed merchandise
6- S&S Speedways - Indoor Go-Karts in the Pocono
Have you ever fantasized about driving a real racecar? This is top-tier racing! S&S Speedways provides family entertainment for both newcomers and racing enthusiasts. It is wheelchair accessible and has a hand-controlled car as well as indoor go-karts. The tri-oval track requires a minimum height of 54″. There is a snack bar, a pool table, and video games. Private parties are welcome. 
Check out their Facebook page for more info about the place and special offers S&S Facebook
Pass around hairpin turns and down the stretch to the winner's circle. Feel the rush of racing on this new indoor race track! The speed of these go-karts is adjusted according to the rider's skill level.
Required minimum height of 54″, and to drive double Kart you should be minimum 54″ and 14 years old, while passengers should be 36″ and above.